CROSSFIT
CrossFit is a strength and conditioning program that is based on a constantly varied, high intensity of a variety of functional movements with the goal of improving total fitness. Functional movements are movements that we use in our day to day things like squatting to sit on a chair, deadlifting to pick an object off the floor or the push press to put something away in a high cupboard to show you a few.  These are movements that are essential to be functional for the rest of your life.  The goal of CrossFit is to be ready for anything and everything that can be thrown at you.
Every day we warm-up and activate the body, work on a certain skill or movement then tackle the WOD or Workout Of the Day as posted by CrossFit Fortis. The WODs are scaled and modified to each athlete's level and performed at the highest intensity that the individual can sustain with good form and proper technique.
Workouts are generally of short in nature  and intense.  These workouts are a combination of multiple movements such as running, rowing, skipping rope, climbing ropes, weightlifting, bodyweight exercises and carrying odd objects.  A variety of equipment can also be used such as barbells, gymnastic rings, pull-up bars, medicine balls and kettlebells.  The combination of the different movements and exercises creates the WOD which stands for the workout of the day.  This WOD is performed by everyone and can be modified (or scaled) according to your strength and abilities.  Each WOD in every individual class is performed in a competitive environment but everyone will be cheering until the very last person is done.
FORTIS CROSSFIT KIDS
We now offer fun, functional fitness classes for kids of all ages. Get them started on the right track right away.
We offer group classes in a supervised environment that are geared specifically to the needs, capabilities and safety of each age group. They can engage in functional, fun workouts and games that help teach strength, agility, coordination, team work and more. This gives them a wide base to tackle any sport or activity they play or encounter.
We have CrossFit Kids classes Saturday mornings and Teen classes throughout the week. Contact us for more details.
This class runs for 30 minutes
In this class we focus on building their core strength, and learning proper functional movements.  Class is not based on intensity, more on proper technique, and individual attention to each child is in a high priority.  Our biggest challenge for this age is a short attention span; therefore classes are based on games and making fitness fun for them.
This class runs for 45 minutes
This class is based on making fitness fun!  This is an appropriate class for children who have the ability to follow directions, and be attentive in a large class setting.  Class is based on intensity, proper techniques and some loaded movements.  We focus on building physical competence in all 10 fitness domains by incorporating fast moving class structure.
This class runs for 1 hour
This class focuses on making fitness fun, however in a more serious nature.  Teens like to be taken seriously; therefore classes are similarly run to adult classes.  Teens also have more adult based problems for example flexibility therefore we include mobility work.  As their bodies continue to grow we are presented with challenges that are different to the adult population, therefore proper supervision is exercises, and technique is hard pressed.  We focus on building physical competence in all 10 fitness domains, by incorporating a fast moving class structure.
LIFT
Come out Tuesday evenings at 6:00pm as this class focuses primarily on the instructing and improving of the technique and execution of the Snatch, Clean & Jerk and related lifts. Beginner or Advanced, we all need fine-tuning and repetitions to improve our movements and speed. Classes will include drills to improve the lifts and work on increasing strength and power as well as performing the lifts themselves. Plus… it's fun to throw around heavy weight!
STRIKING
CrossFit Striking is a monthly, high-paced, specialty class brought to you exclusively at CrossFit Fortis. CrossFit Striking helps to increase overall fitness, core strength, and rotational speed and power by incorporating striking drills into CrossFit workouts. Striking movements are some of the most functional core movements because punching and kicking with true power, speed and accuracy require people to utilize their entire body. This is why fighters are some of the most well conditioned and powerful athletes in the world.This class follows the same structure of a normal CrossFit class with a warm up, skill & drills and then finishes with a WOD that will utilize your entire body and new muscles will be used!
CrossFit Striking is non-contact so you won't be punching anyone in the face but you can bet that you will be punching bags – hard!
On the second Friday of each month at 7:00pm, Coach Erin will lead you through these tough workouts.
COMPETITIVE CLASS
Competency at the regular classes and all movements must be demonstrated to an authorized CrossFit Fortis coach, before graduating to these classes.
These classes offer an infinite combination of exercises creating higher intensity, volume and skill level to attain an advanced fitness level. This class is for athletes wishing to compete in events throughout the year.
As part of the Performance Membership there is daily additional Performance Programming geared towards the more Competitive Athlete as well as our 2 hour Intensive Comp Class every Saturday at 11am.
1-ON-1 TRAINING
We offer 1-on-1 Training with our experienced, personable coaches. Whether it's goal specific, coming back from an injury or just getting started, we can tailor the sessions to your needs. Some people can find it more comfortable and easier to focus in a one-on-one setting. We still apply the CrossFit mantra of "Mechanics, Consistency and then Intensity," to provide a safe but challenging environment. 1-on-1 Training can be booked around your schedule and is available seven days a week. Various packages available upon request.
TEAM TRAINING
We offer private Team Training packages for Soccer, Football, Baseball and Hockey Teams. These can be customized to the team needs and goals and can be as sport specific or broad as desired. We can help your team improve stamina, explosiveness, strength, balance, agility, teamwork and more. Contact us to book your sessions now.
SILVER STRONG
Regular physical activity promotes better health, wellness and concentration, prevents disease, improves sleep and most of all improves the quality of daily living.
Silver Strong is our new fitness program designed for people aged 60 years and older. We have designed it to meet the needs of all seniors, regardless of existing fitness level.
Older adults reluctant to start an exercise program because they haven't worked out for years, or are intimidated by traditional gyms,
will find Silver Strong to be just what they need while Senior Athletes will gain the strength and flexibility necessary to improve and continue their passion.
Wednesdays and Fridays at 1:30pm led by Coaches Paula and Vero.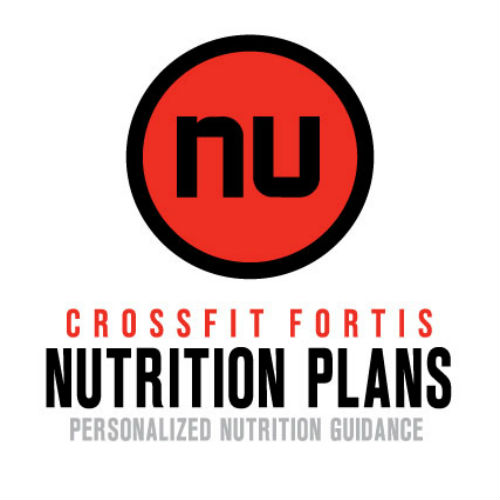 NUTRITION
We have a Nutritionist on staff to help you achieve your goals as effectively and efficiently as possible. We offer this in our start-up packages as well as an add-on to your membership. Book your time with Janet now and improve your health.
"The burden of never trying is far heavier than any barbell ever will be."
Please arrive at class a minimum of 10 minutes before so you are ready to go when the class starts.
Personal Training:  
No refunds on personal training sessions and packages. Sessions may be transferable at the discretion of CrossFit Fortis.

Any sessions cancelled with less than 24 hour notification or no-showed are charged and forfeited.
Boot Camps:
Once a particular boot camp has begun, no refunds will be processed.

Missed boot camp classes are forfeited.
Physiotherapy:
24 hour notice of cancellation is required.

Any sessions cancelled with less than 24 hour notification or no-showed are charged and forfeited.
CrossFit classes:
Any no-shows are

–  Forfeited

–  Penalty of 50 burpees during next visit

If unable to attend a scheduled class, unschedule from the class by notifying CrossFit Fortis via online scheduling or by telephone to allow clients on waiting list to attend.

20% of  membership fee to be charged for early cancellation of membership.
Competitions:
No Refunds on any competition registrations past the deadline.

Transfer of registration to another party is permitted.
Products:
No refunds, exchanges only.
Orleans Strong
Find out more about us by filling out our brief Request Info form.